Mind Body Spirit             75 min        90 €                                              
Mind Body Spirit             90 min        110 € 
~
Kobido
Back and face                 75 min        90 €
Back, face and feet       90 min        110 €
Sound Massage and deep relaxation
Session with Tibetans bols solo or integrated as a deeper relaxation at the end of one of these two massages kobido or yoga-thaï.
Sound Relaxation                               15 min        20€
Sound Massage and Relaxation    45 min       50€ (with 15/20 mins of stretches and deep massage depending of your need)
TREATMENT PACKAGES:
Practiced on a regular basis, the massages give you a positive energy, considerably improve the flexibility, reduce the stress, the problems of circulation gradually decreasing the pains installed for a long time. The session will become, over the minutes, a real meditation that will help improve your concentration by soothing the restless minds.
> 5 x 1h15          410€  (82€/each seance)
> 5 x 1h15          480€ (96€/each seance)
The smile package is specifically created for KOBIDO facial care, recommended for people who want a quick and visible result. In one session you will have the immediate effect "photoshop", but the effect will be all the more saved over time if we bring together a series of sessions. This formula guarantees you a perfect complexion and a subtle smile on the lips with a secret that you will have the right to reveal, of course!
(Valid two months after the date of purchase)
Paradise ( Yoga thaï)
5 x 1h15           410€ (82€/h)
5 x 1h30          480€ (96€/each)
The paradise package is ideal for people who wish to regularly enjoy a moment of well-being. But also, visibly feel their condition improve or fix the results over a longer period.
(Valid six months after the date of purchase)
To make a reservation :
For further informations, please contact me :
 by WHATSAPP phone: (+33)069 583 2920.
GIFT CARD:
Mark a special event or simply just for the pleasure and offer a serene moment buying a MAISON YTOKO gift card.
Especially designed to customize yourself what you want to offer and signed it, it's the easiest and the quickest way to make a gift in one click.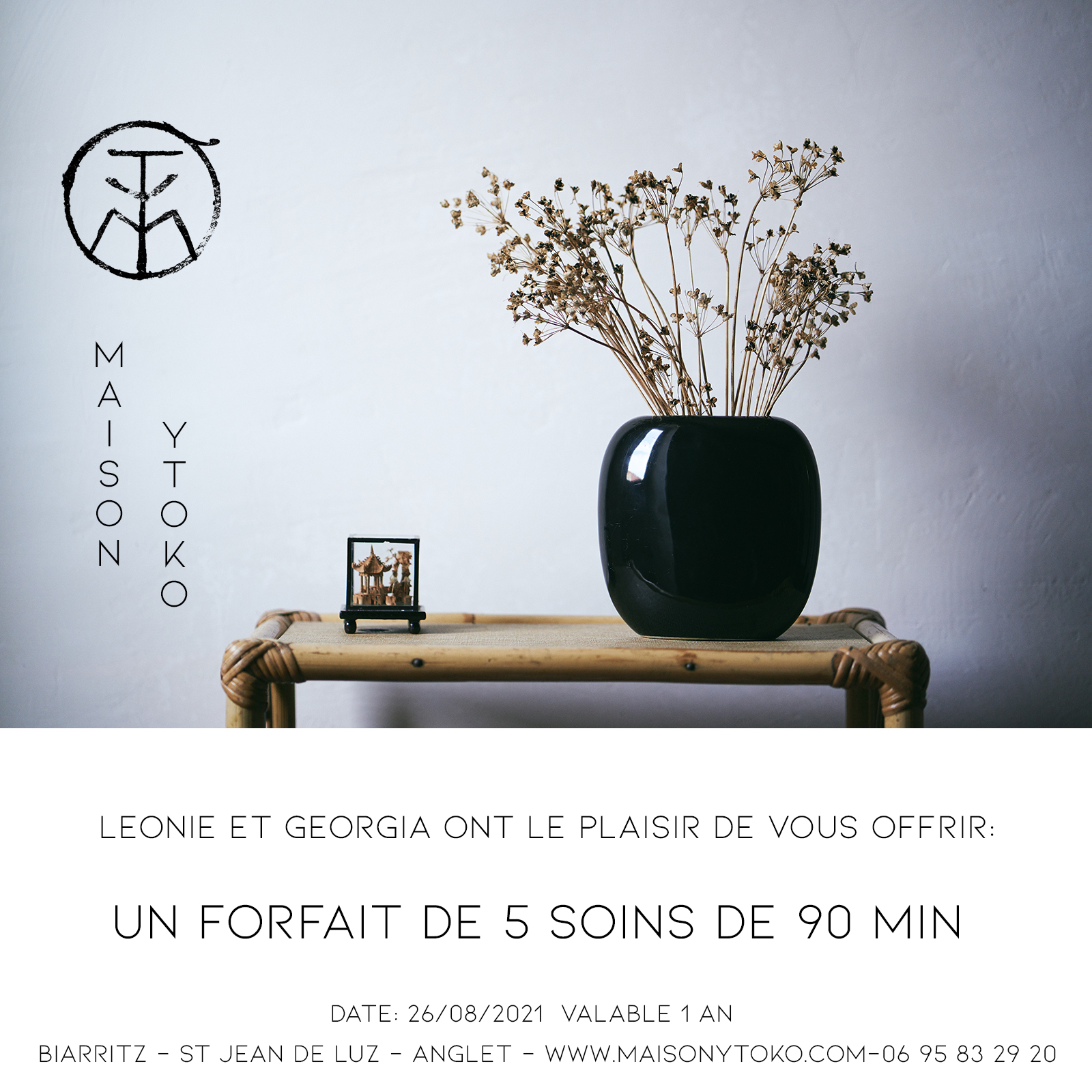 TO GET A GIFT CARD:
Send me an email : massage.yogathaiom@gmail.com
Looking forward to see you
Namaste
Contact
[contact-form-7 id="75″ title="Réservation_copy"]